Changing Trends of the European Development Cooperation with Pakistan: Challenges and Opportunities
Keywords:
EU, Pakistan, Development, Populist Forces, Eurozone Crisis, Strategic and Security Collaboration
Abstract
A partnership plan for the Horizon 2020 programme was finalised between the European Union (EU) delegation and Pakistan Science Foundation (PSF) visiting Pakistan in November 2017. Aimed at promoting a more binding single market for research, innovation and knowledge, the Horizon 2020 is basically a financial instrument. It is a flagship initiative to secure Europe's global competitiveness by steering economic growth and to help generate more opportunities for employment. The programme also anchors on a unanimous keystone for cooperation by both the European leaders and members of the European Parliament. Pakistan and the EU have always celebrated cordial political, economic and trade relations. As one of Pakistan's largest trading partners and the biggest market for the Pakistani exports, the EU-Pakistan trade reached €10.49 billion in 2015.[1] Since January 2014, Pakistan has also benefitted from the EU's Generalised System of Preferences (GSP) and its exports to the EU are encouraged even further. However, with the shifting political paradigms in the post-Brexit period and the rise of the right-wing nationalist/populist syndrome, Brussels is changing. Amidst rising economic crisis and growing terrorism, solutions look dim or problems would at least take time to faint. The future shape and character of the EU are in question. The EU's insistence to help Pakistan with its aim of supporting on its path towards inclusive and sustainable growth needs revamping. Pakistan's five major priority areas of governance, local development, economic growth and trade, humanitarian assistance and regional cooperation are significantly dependent upon the support of the EU.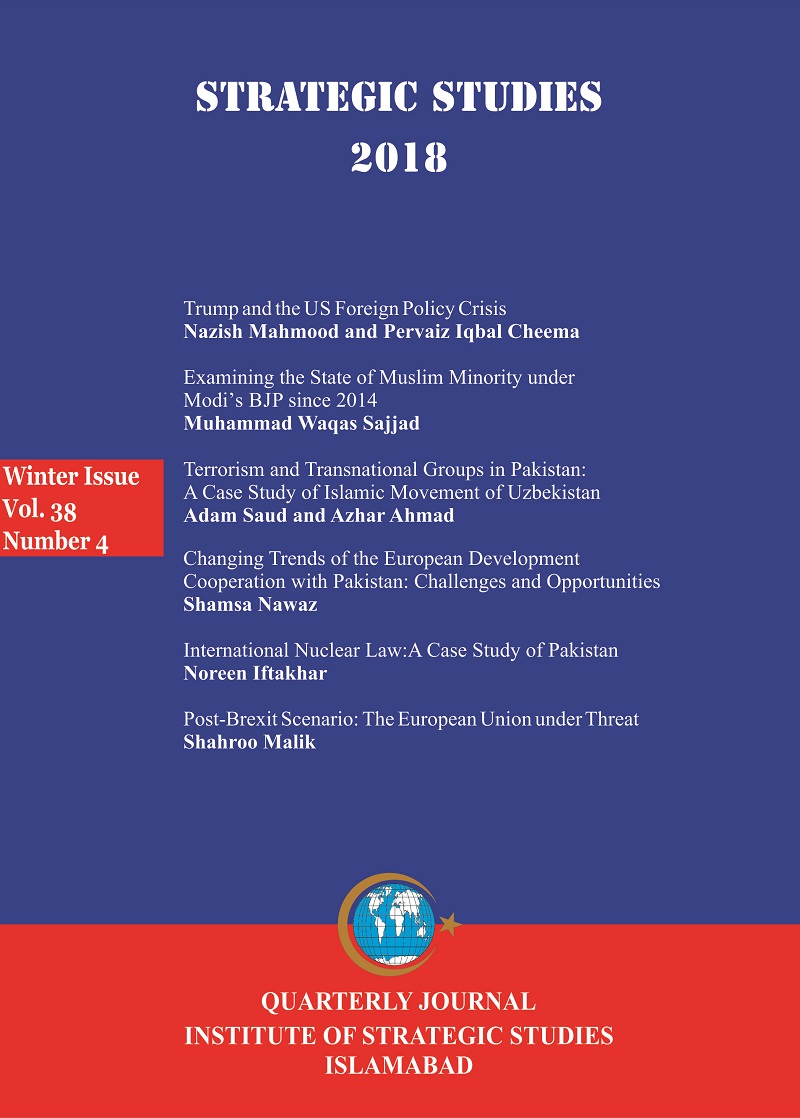 How to Cite
Shamsa Nawaz. (2019). Changing Trends of the European Development Cooperation with Pakistan: Challenges and Opportunities . Strategic Studies, 38(4), 52–68. https://doi.org/10.53532/ss.038.04.00133
Copyright & Licensing
Copyright (c) 2022 Strategic Studies
This work is licensed under a Creative Commons Attribution-NonCommercial 4.0 International License.